Aerospace Coatings International (ACI) is an MRO repair station that holds FAA and EASA certifications, as well as ISO 9001:2008. We want to be your one stop shop for component repairs and engineering services. We specialize in Hydraulic, Pneumatic and Landing Gear piece part repair. While each repair is different most of our quality-assured repairs can be completed in less than 14 days and at a best-in-industry price.
Our Services
Engineering Services
Repair Development (DER)
3D Modeling
Stress Analysis (FEMAP - Preprocessing)
Nondestructive Material Identification
Micro-hardness Testing
Reverse Engineering
Technical Documentation

Quality Assurance
Liquid Penetrant Inspection
Magnetic Particle Inspection
Nondesctructive Testing
NDT Personnel Qualifications Program
Nital Etch Inspection

Blast Media
Steel Shot
Glass Bead
Sand Blast
Rubber Bead Blast
Pulverized Walnut Shells

Grinding / Machining
Cylindrical Grinding
Internal Grinding
Jig Grinding
Honing
Electropolish

Plating / Coatings
Chrome Plating
Cadmium Plating
Sulfamate Nickel Plating
Silver Plating
Phosphate Coatings
Black Oxide
HYSOL
Dry Film Lubrication
Plasma/HVOF Spray
Chromate Conversion
Electroless Nickel
Please view our Quality Documents.
Our Vision
To lead the world in serving the aircraft accessories market.
Our Mission
As a one-stop shop for piece-part repairs, we work to deliver high-quality repairs at competitive rates in a timely and cost-effective manner.
Brief History
ACI opened for business on April 1, 2002 and was created out of IPC-Aerospace, a division of Industrial Plating, Inc. Established in 1963, Industrial Plating has long had the goal of building a world-class facility dedicated solely to its aerospace business. Now that vision is a reality.
Latest News
6/27/2011 - FAA Presents Gold Award to Aerospace Coatings International

FAA representatives presented Aerospace Coatings International with the William O'Brien Aviation Maintenance Technician "Gold Award" of Excellence.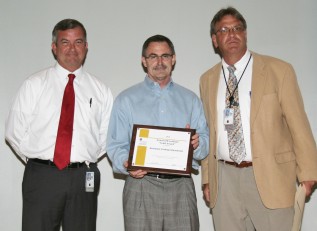 -Patrick McCarty, General Manager of Aerospace Coatings International, was on hand to accept the award from Richard Henry, Front Line Manager for Airworthiness, and, William Hattaway, FAAS Team Program Manager.-
The award was given based on ACI's efforts to aggressively participate in initial and recurrent maintenance training, and, for going "above and beyond the standard" in promoting safety principles.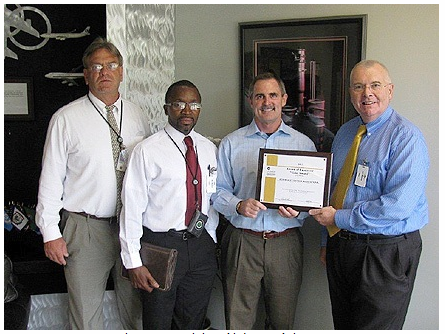 ACI was the only company in Alabama and Northwest Florida to achieve this prestigious award this year (from a pool of 78 other FAA repair stations eligible for the honor).
Customer Service
We love logistics too! Our customer service is the best in the business and our online Customer Console keeps our customers informed of the parts they've entrusted to us at all times. They can one-click their way to see real-time status anytime they want or just read the daily status and shipping reports in their Inbox.

We also automatically email Status Reports and Shipping Logs on a daily basis right to our customers.